A Guide To Toxic Woods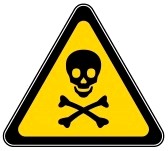 Important information on potentially toxic woods that all woodworkers should know, the following information is reprinted from data provided by Roy Banner, a woodturner from Torrance, California who almost lost his life in 1989 to anaphylactic shock after turning pieces of exotic wood.
After each wood name comes categories between slashes / /:
Explanation
Class: Woods are classified as either an irritant which causes a reaction fairly rapidly after exposure and will cause a similar reaction repeatedly or a sensitizer which may have a latency period of hours or months and may require repeated handling before a reaction occurs. Sensitizers are the more severe because once you're sensitized, you're sensitized for life and the reactions get more serious.
Reaction Category:

Eye and Skin irritation (hives, itching, redness).
Respiratory problems.
Nausea headache, or general malaise, possibly even liver or kidney malfunction.
Cancer of nose and sinus. Statistics show that woodworkers have a 40% greater chance of nasal cancer than the general population, but the majority of statistics on nasal cancer are based on data from 1920-1960 when the furniture industry became highly mechanized with little or no dust control methods.

Potency: Small, Great, Extreme. This is the potential of the wood or sawdust doing harm and would vary with the individual i.e., those who are allergy prone must use extreme caution when working with wood classed as extremely potent.
Source: Dust or Wood or both
Incidence: Unknown, Rare or Uncommon. 
Note that this data does not take into consideration Man's penchant for trying to poison himself by using formaldehyde in plywood, treated woods, sodium compounds in white pine to prevent blue stain, etc.
List of Wood
Afromosia: irritant/eye & skin, respiratory/great/dust/rare
Alder: irritant/eye & skin, respiratory
Angelico: irritant/eye & skin, respiratory/great/dust
Arborvitae: irritant/respiratory
Ash: irritant/respiratory
Baldcypress: sensitizer/respiratory/small/dust/rare
Balsam fir: sensitizer/eye & skin/small/dust/rare
Beech: sensitizer/respiratory/great/dust/rare
Birch: sensitizer/respiratory, nausea/great/dust, wood/rare
Black locust: irritant/nausea/great/rare
Blackwood: sensitizer/eye & skin/great/dust, wood/common
Boxwood: sensitizer/respiratory/small/dust, wood/rare
Cashew: sensitizer/eye & skin/great/dust, wood/rare
Chechem: irritant/respiratory, eye & skin/great/dust, wood/unknown
Cocobolo: irritant/respiratory, eye & skin/great/dust, wood/common
Dahoma: sensitizer/respiratory/great/dust/common
Ebony: irritant, sensitizer/respiratory, eye & skin/great/dust, wood/common
Elm: sensitizer/eye & skin/small/dust/rare
Fir: irritant/eye & skin/small/rare
Goncolo alves: sensitizer/eye & skin/small/dust, wood/rare
Greenheart: sensitizer/respiratory, eye & skin/extreme/dust, wood/common
Guarea: sensitizer/eye & skin/extreme/dust/rare
Hemlock: nasal cancer/great/dust/rare
Ipe: irritant/respiratory, eye & skin
Iroko: irritant/respiratory, eye & skin/extreme/dust, wood/common
Katon: irritant/respiratory
Kingwood: irritant/eye & skin
Mahogany, American: sensitizer/respiratory, eye & skin/small/dust/rare
Mahogany, African: sensitizer/respiratory/great/dust/rare
Makore: irritant/respiratory, eye & skin
Mansonia: irritant/respiratory, eye & skin/extreme/dust, wood/common
Manzinilla: irritant/respiratory/dust/rare
Maple: sensitizer/respiratory/great/dust, wood/rare
Mimosa: irritant/nasal/extreme/dust, wood/common
Myrtle: sensitizer/respiratory/great/dust, wood/common
Oak, red: nasal/great/dust/rare
Obeche: sensitizer/respiratory, eye & skin/great/dust/common
Olivewood: sensitizer/respiratory, eye & skin/great/dust, wood/common
Opepe: sensitizer/respiratory/small/dust/rare
Orangewood: respiratory/rare
Padauk: irritant/respiratory, eye & skin, nausea/extreme/dust, wood/common
Pau ferro: sensitizer/eye & skin/small/dust, wood/rare
Peroba rose: sensitizer/respiratory/great/dust, wood/common
Peroba white: sensitizer/respiratory, eye & skin
Purpleheart: sensitizer/eye & skin, nausea/small/dust, wood/rare
Quebracho: nasal cancer/great/dust/rare
Ramin: irritant/respiratory, eye & skin/small/dust/rare
Redwood: sensitizer/respiratory, nasal cancer/small/dust/rare
Rosewood(s): irritant, sensitizer/respiratory, eye & skin/extreme/dust, wood/common
Satinwood: irritant/respiratory, eye & skin/extreme/dust, wood/common
Sassafras: sensitizer/respiratory, nausea, nasal cancer/small/dust, wood/rare
Sequoia: irritant/respiratory, nasal cancer/small/dust, wood/rare
Snakewood: irritant/respiratory/great/dust, wood/rare
Spruce: sensitizer/respiratory/small/dust, wood/rare
Stavewood: irritant/respiratory
Sucupira: irritant/respiratory
Teak: sensitizer/eye & skin/extreme/dust/common
Walnut, black: sensitizer/eye & skin/great/leaves & bark/unknown
Wenge: sensitizer/respiratory, eye & skin/great/dust/common
Willow: sensitizer/nasal cancer/great/dust/unknown
W. redcedar: sensitizer/respiratory, nasal cancer/great/dust/common
Yew, Europe: irritant/eye & skin/great/dust/common
Zebrawood: sensitizer/eye & skin/great/dust/rare